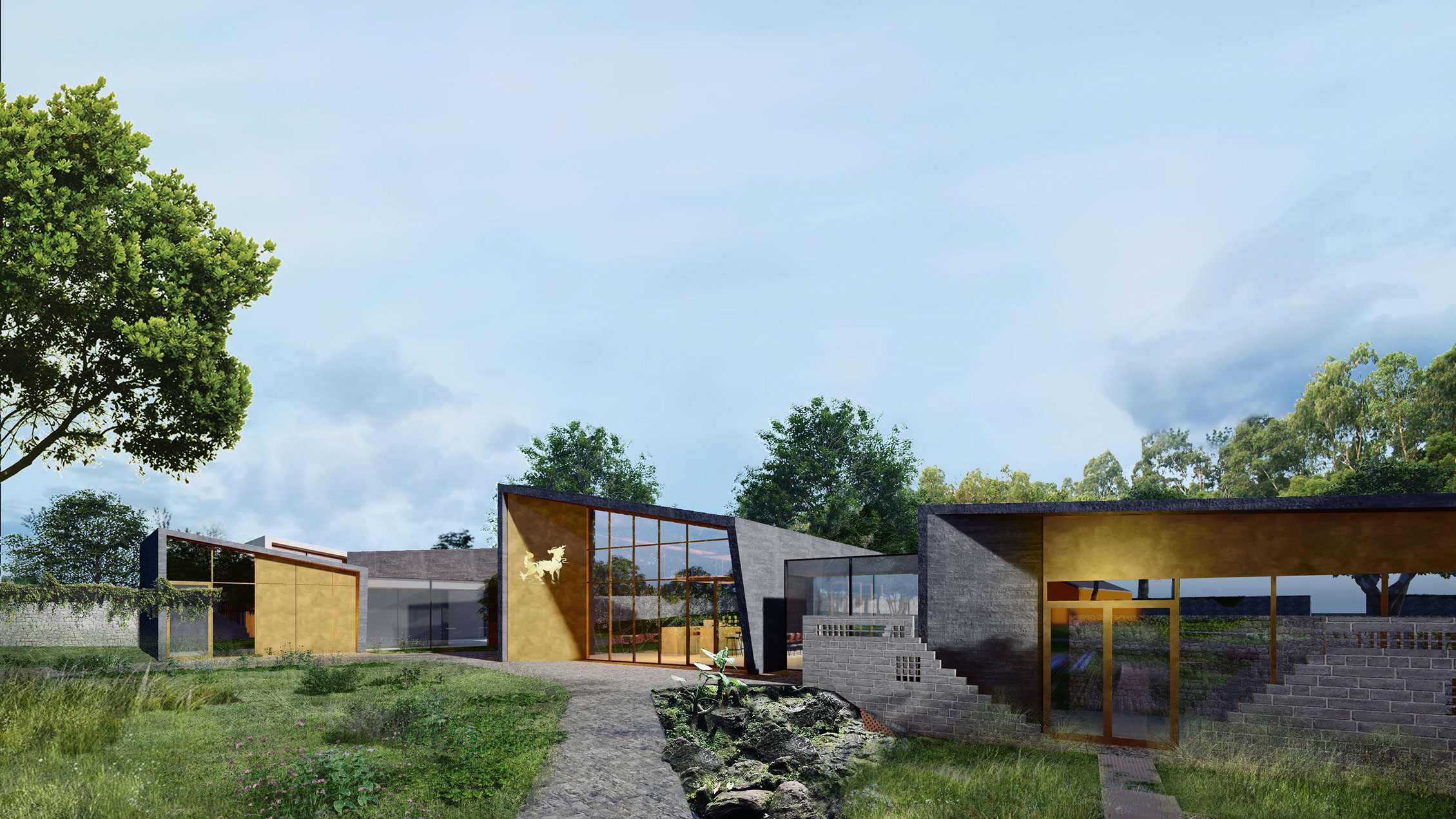 INFI Coffee Estate Architecture & Landscape Design
INFI 咖啡体验庄园建筑及景观设计
Coffee roasting has many similarities to architectural design. It is not so much a technique as it is an art. At INFI, the innovative and artistic architecture and landscape provide new inspiration for coffee roasting. The vitality of architecture and landscape stems from the character of INFI Coffee. In Hainan, what is about to be accomplished is the legend about coffee, as well as architecture.
咖啡烘培与建筑设计有很多相似之处,与其说它们是一门技术,不如说是一种艺术。在INFI咖啡体验庄园,极具创造力和艺术张力的建筑与景观,为INFI咖啡提供新灵感。建筑与景观的生命力源于INFI咖啡的性格。在海南这片土地上,即将成就的是关于咖啡的传奇,亦是关于建筑的。
设计的思索过程在于将空间的序列重组。被场地浓郁的绿色所感染,这里的气候,植被,自然所体现出来的状态,都是设计最原始的出发点。本案的挑战在于如何在思索的过程中,充分尊重场地的气质,并对此进行升华,提炼, 使设计与场地融合。
The thinking process of de-sign is to reorganize the se-quence of space. Impressed by the site's rich green, the cli-mate, vegetation, and natural condition of the place are the very original inspiration for this design. The challenge of the project is to fully respect the venue's temperament, sublimating and refining it to integrate the design with the site.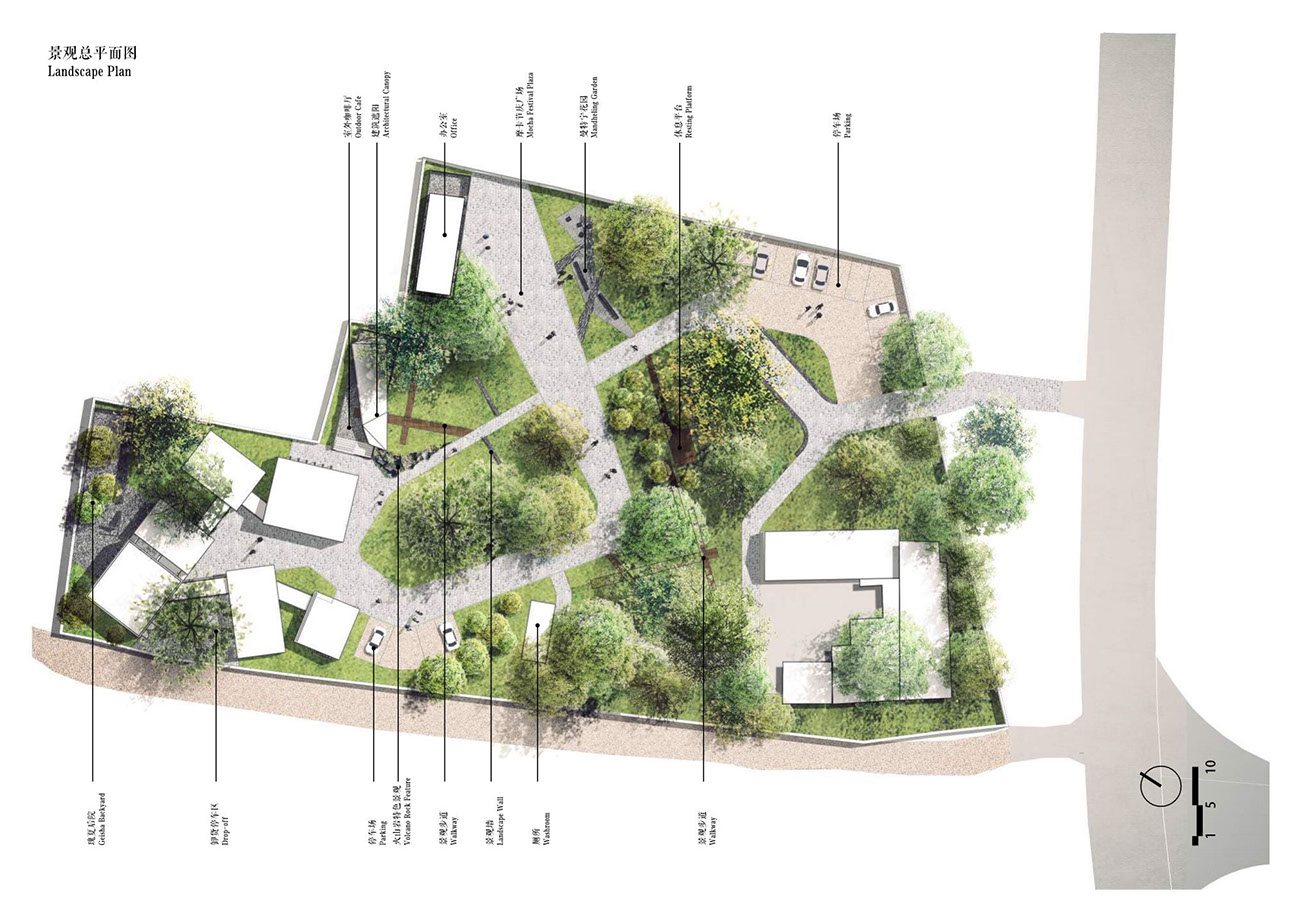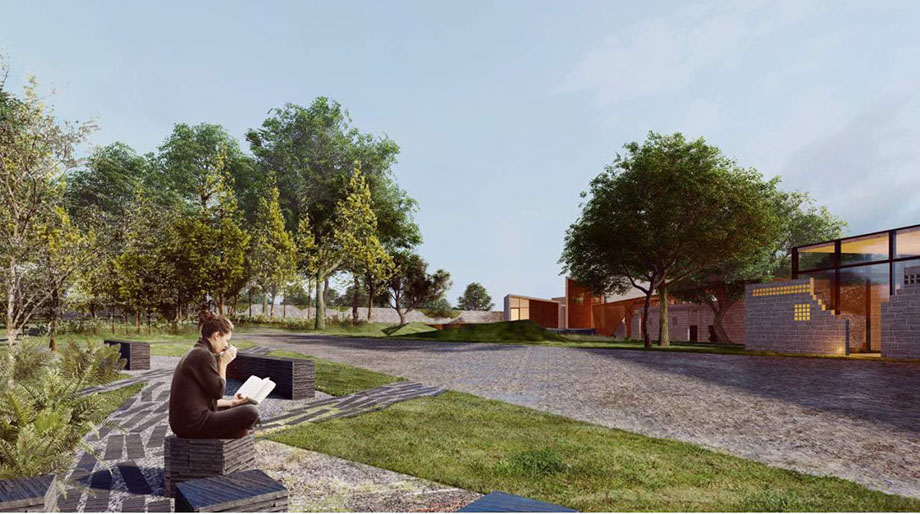 Mandheling Woods
Sumatra is known as the Spice Island, and the mountain tribes are in the wild green mountains. Mandheling in Sumatra are planted on the hillsides between 750 and 1500 meters above sea level. Its high humidity and the very rare coffee bean treatment give Mandheling a unique herbaceous and woody taste. Mandheling has a long aftertaste, and there is a kind of mountain fragrance, which is the unique earthy smell in the original forest. Traveling through the Mandheling woods, peo-plecan feel the tranquility of nature. Either enjoying a cup of coffee, or taking a break with eyes closed, the atmosphere of the earth and trees will immerse people in the INFI Coffee Estate. Between the breath, there are flowers, slowly blooming from the heart.
曼特宁树林
苏门答腊素有香料岛之称,山区部落就在绿意盎然的山野中。苏门答腊曼特宁被种植在海拔750米到1500米之间的山坡上。其高湿度以及世界罕见的咖啡豆处理法赋予了曼特宁独有的药草香与沉木味。曼特宁余味长,有一种山野的芬芳,那是原始森林里特有的泥土味道。穿梭在曼特宁树林之中,人们可以感受到自然的宁静致远,或品尝一杯咖啡,或闭目小憩,大地和树木的气息将使人们沉浸在INFI咖啡体验园中。呼吸之间,有花朵,从心中慢慢盛开。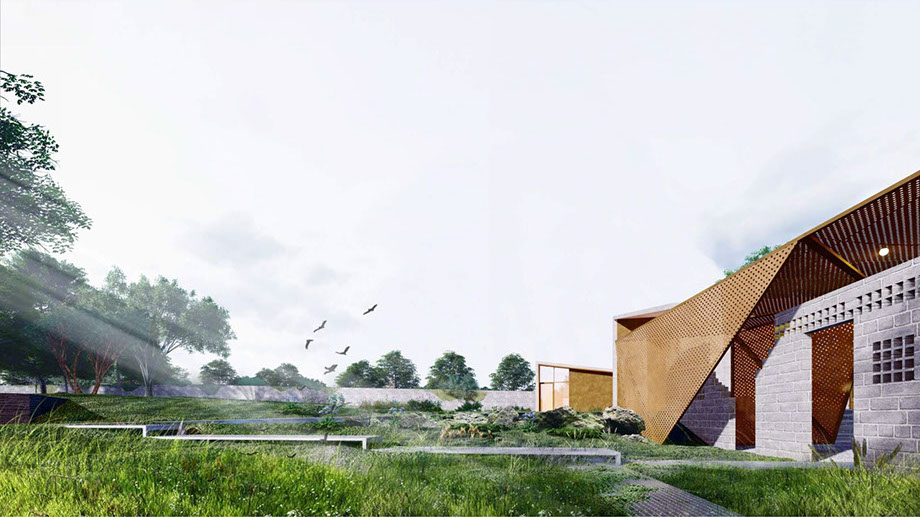 Kona Green Island
Hawaiian Kona coffee beans are the most beautiful coffee beans in the world. Because of its growth on the volcano, Hawaii's unique volcanic climate has created the unique aroma of Kona coffee. The most precious thing is that Kona coffee has a mixed aroma of wine, fruit and spice, just as charming as this colorful vol-canicisland. The area named Kona Green Island has a unique scenery of volcanic Rock. With the preserved mottled brick walls, visitors can walk through old and new buildings. Wandering through the green plants covered ground, people can experience the timeless beauty of the mystery land.
科纳绿岛
夏威夷产的科纳咖啡豆是世界上外表最美丽的咖啡豆。因为生长在火山之上,夏威夷独特的火山气候铸就了科纳咖啡独特的香气,最难得的是,科纳咖啡具有一种兼有葡萄酒香、水果香和香料香的混合香味,就像这个火山群岛上五彩斑斓的色彩一样迷人。这个被命名为科纳绿岛的区域有着火山岩块独特的风貌,也有被保留的旧建筑斑驳的砖墙,人们可以穿梭于新旧建筑之间,行走在被绿植覆盖的土地上,感受其融于时空的悠远而神秘的美。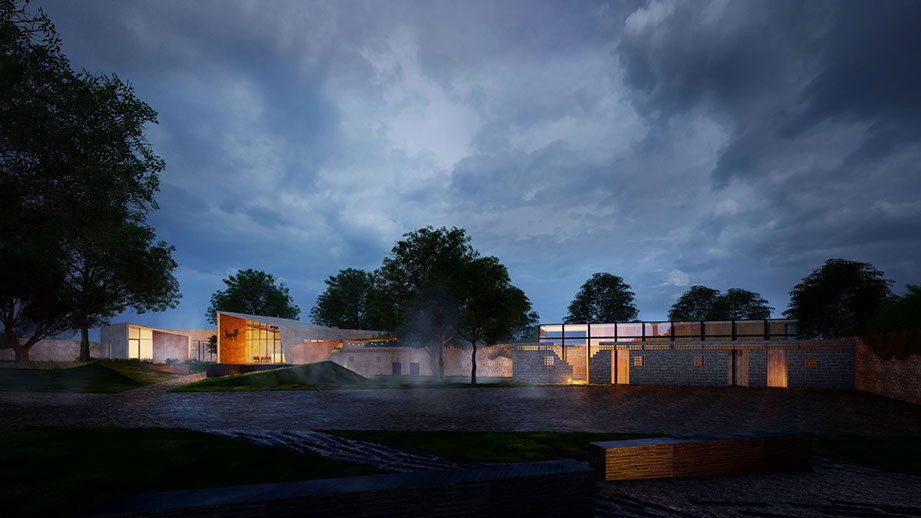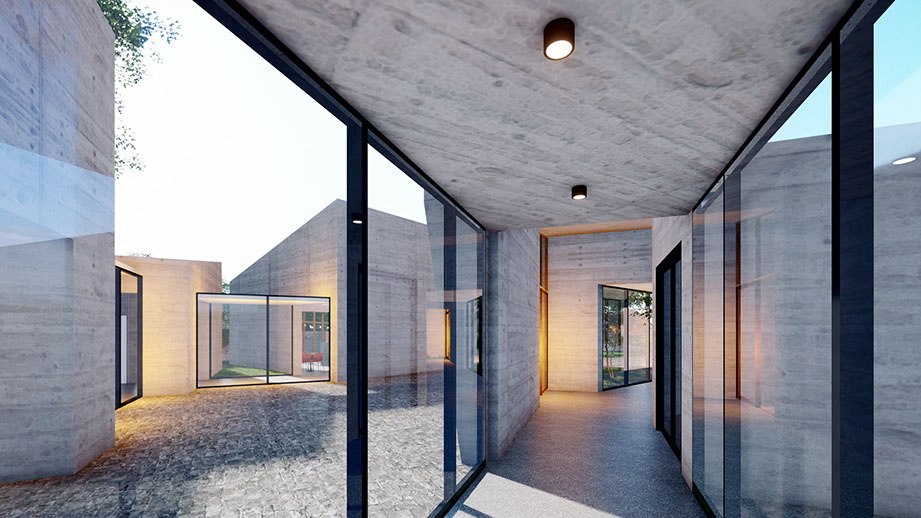 The exterior of the building is a reflection of INFI culture, a combination of tradition and creativity. The reflective copper material rep-resents the innovation of INFI Coffee. The con-crete facade represents the classical aspect of INFI.
建筑外观是一种原生态的素朴和颠覆性的创新相结合。一种低调而庄重的石材,代表着INFI咖啡的文化底蕴与传统。反光亚膜铜板的运用,代表着一种前卫的思考,颠覆,与创新。
外墙的选择是一种朴素与艺术,作家气质的材质。材质具有一种原生态的在地性。这种材质可以考虑是夯土材料。夯土材料的的做工,可以在建筑外表皮做20mm的抹灰处理,这种材质还可以是混凝土板材。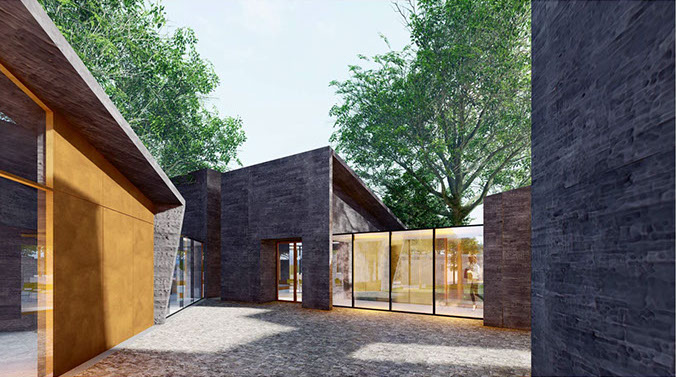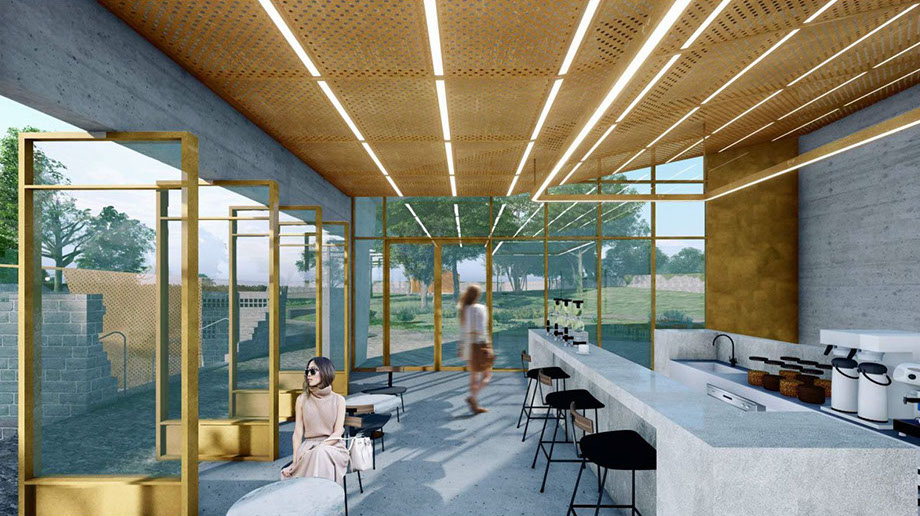 Architects
Landscape
Type

Location
Year
Status
Size
Client
REAL Architects
REAL建筑事务所
REAL Architects
REAL建筑事务所
Commercial architecture, Landscape
商业建筑, 景观
Haikou, China
海口
2019
On going
项目进行中
600m² architecture,5000m² landscape
建筑600m²,景观5000m²
INFIKYLIN Coffee
英菲咖啡