[TECTOPIA] Regenerate and Rebrand Tenderloin through Technology
旧金山Tenderloin区域畅想
Type: Competition | Date: 2015 | Location: San Francisco | Project Team: Liuliu, Guangyu Zhao, Xiru Chen, Naiji Jiao
The futuristic Techtopia of Tenderloin is a neighborhood like no other. Walking on a solar panel powered street, asking for assistance from artificial intelligence operated tech-booths anywhere, discovering the latest technology products in a parklet, experiencing a holographic tour of Mars in a playground, getting service from robots in a restaurant, and joining the Tech Expo Events – yes, this is Tenderloin, the world's first prototype high-tech showcase neighbourhood in San Francisco.
This project proposes that through the cooperation of technology companies and non-profit organizations, Tenderloin would become a prototype neighbourhood that promotes and benefits from innovative technological designs, which in turn would regenerate and rebrand the neighborhood. Like an egg in a high-tech incubator, this neighbourhood would hatch into a community filled with fascinating lifestyles, and become a tourist destination for extraordinary experiences.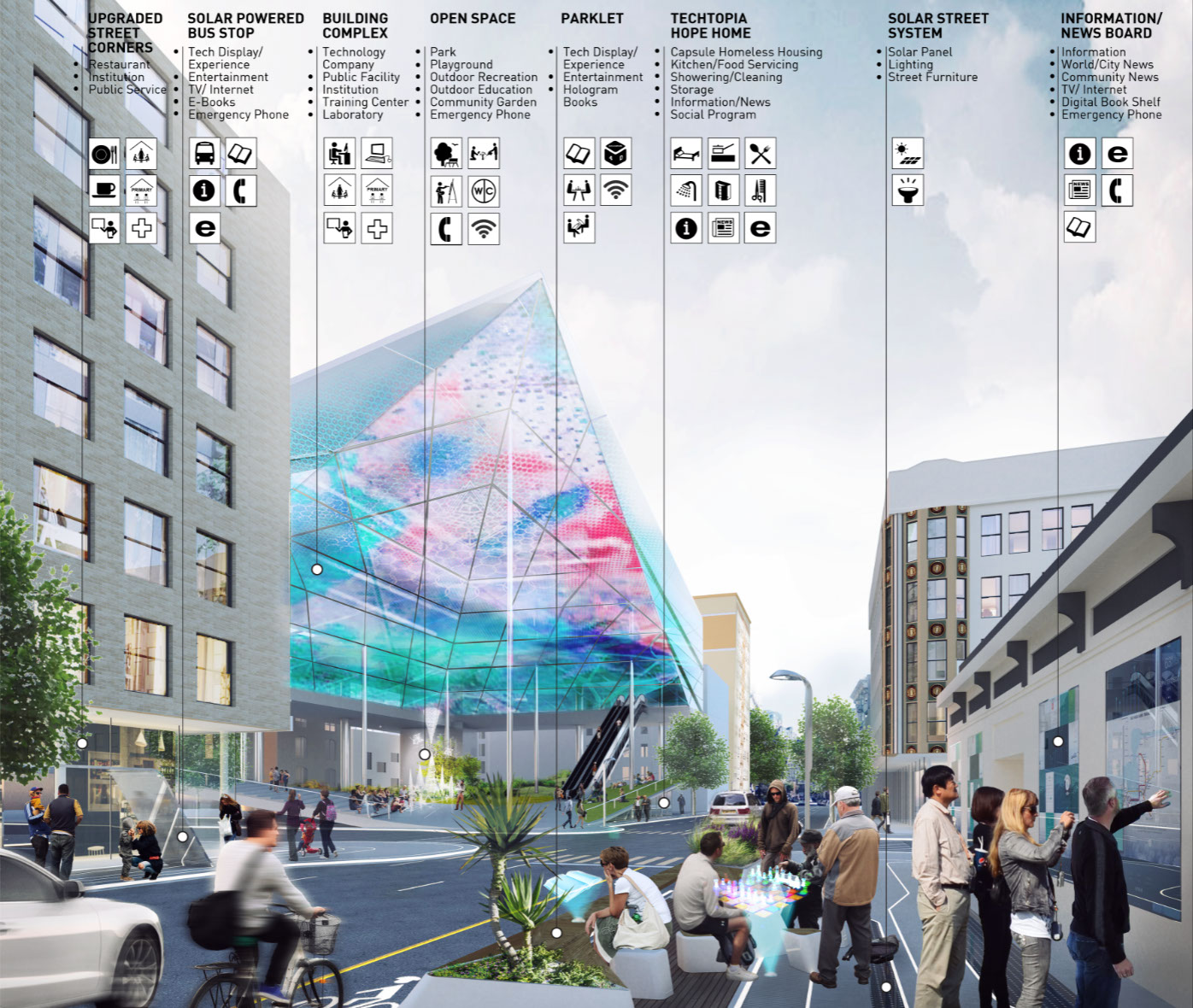 Your journey begins with the step on a solar powered street, the sight of people taking part in holographic games, being greeted by artificial intelligence. Yes, you are now in the Techtopia of Tenderloin – the world's first prototypical high-tech showcase neighbourhood. Here, technology provides support and convenience to the residents and visitors, as well as redefining the cityscape including the streets, architectures, and open spaces. With the extraordinary experiences of cutting-edge technologies found across the neighbourhood, Tenderloin would become San Francisco's number one tourist destination.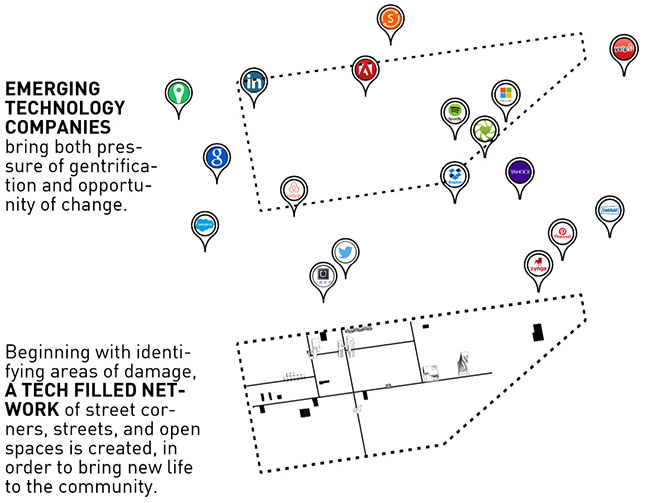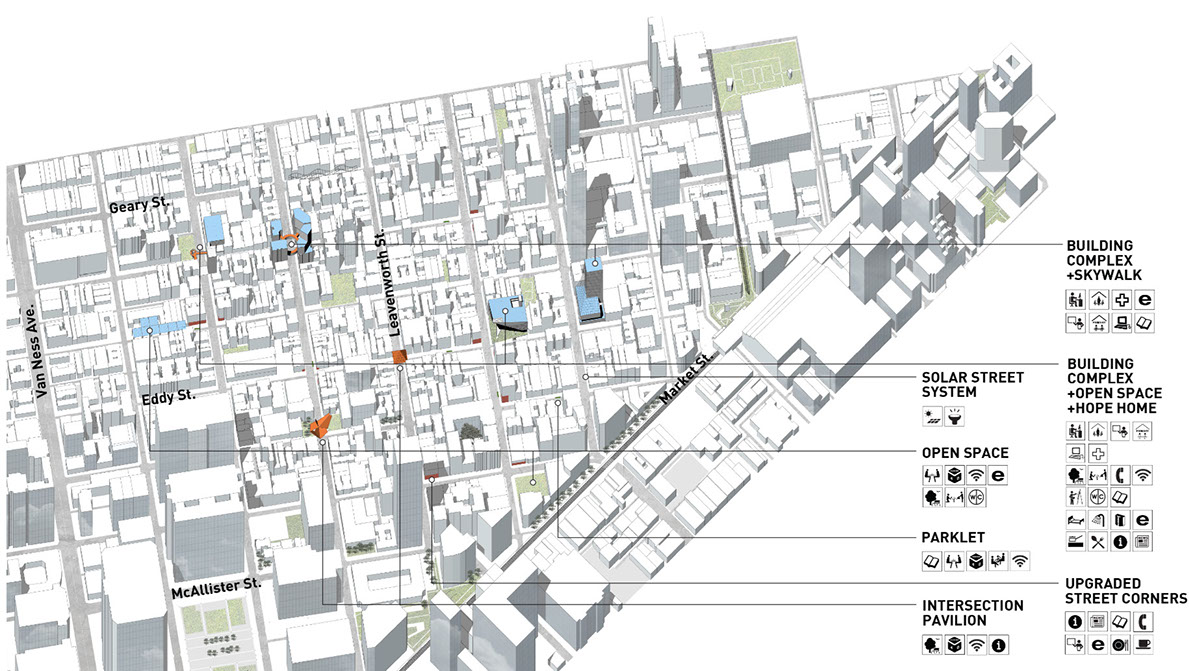 Regeneration typically begins by identifying areas of damage, which in this case are street corners and open spaces that are commonly associated with high criminal records. As a strategy, we propose to bring in technology company based building complex to the run-down street corners, create open spaces, and make use of non-profits operated and tech companies supported public facilities, such as community centres, institutions, and social homes. By regenerating strategically selected intersections, positive changes will radiate throughout the neighbourhood. Street corners are transformed into areas for people to get together; streets become destinations to explore the range of technologies built into cityscapes and its architecture. At the same time, streets connecting to these intersections would form a network that connects the many tech filled public spaces, producing a whole new experience for the high-tech neighbourhood.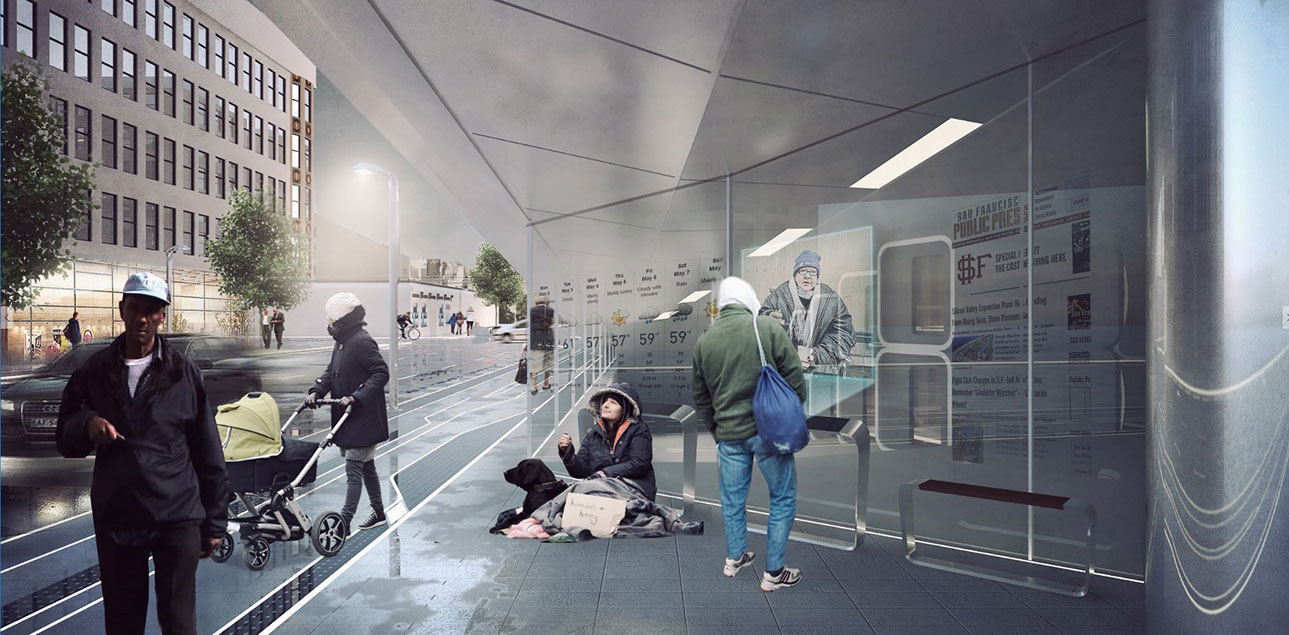 Tenderloin Hope Home are shelter homes operated by nonprofit organizations that provide social services to help the street population in the neighbourhood. In order to create a friendly and comfortable environment, Hope Homes consists of cozy capsule rooms, storage spaces, cleaning facilities, as well as kitchen and dining spaces. Aside from assisting with daily operations, the built-in technologies in Hope Homes can also arrange home availabilities, encourage communications through social networking booths, and lastly mood tracking along with personal account application.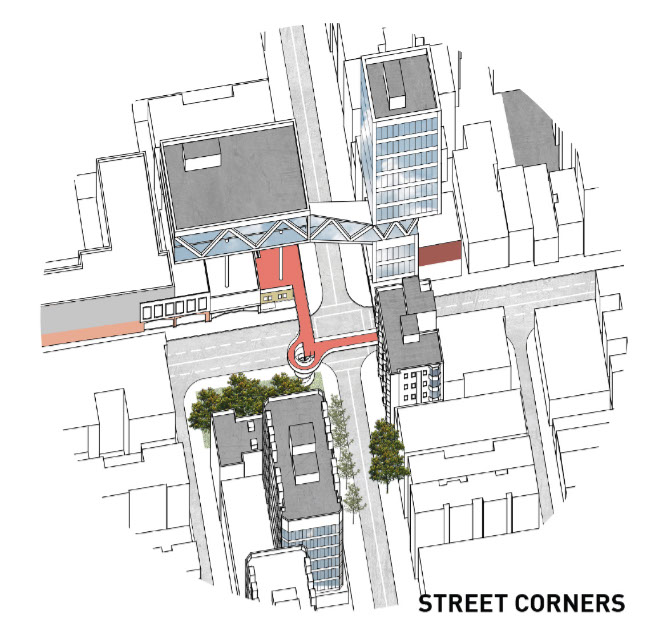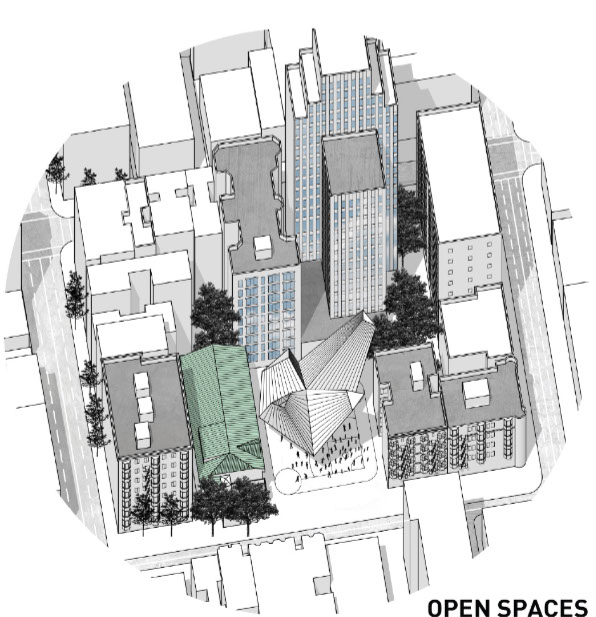 In Tenderloin Techtopia, technology provides support and convenience to the residents and visitors. Technology would help the children growing up in Tenderloin by stimulating their creative thinking; assist street population with tech-supported shelter such as Hope Homes; and attract visitors with experiences necessary for exploration. Through technology, as well as the cooperation between the tech companies and non-profit organizations, it is possible to bring people together in a harmonious and progressive community.
There are 6,000 children living within 50-block radius of Tenderloin. In order to create more space for activities and creative thinking, underutilized open spaces and vacant lots are redesigned with built-in technologies and transformed into attractive amenity areas and outdoor educational rooms. It is in our hopes that with through technological intervention, all members of the community can meet, play, and grow in safety and happiness.